Hi everyone! Happy Pink & Green Thursday!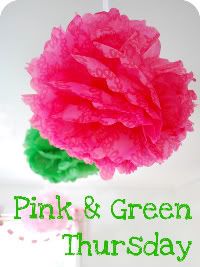 It's so nice to be back with you this week! Once again a huge thank you to all of the fabulous guest bloggers, especially
Sara
and
Julie
, who took over for Pink & Green Thursday for the last two weeks.
(Their posts are here and here, respectively, in case you missed them.)
Your posts were fantastic, ladies!
I'm so excited to see the new faces linking up each week, I hope you're enjoying yourselves and meeting new friends at the same time. As always feel free to play along by grabbing the button off my sidebar, show us your faves, and link up below. We love spreading the pink and green fun!
This week I would once again like to say thank you to each of you, for all the beautiful inspiration that you each provide every week. I continue to be in awe of the brilliant and creative people I have met through the blogging world. As this darling card simply states, the world is indeed full of beautiful things, like you!
Wouldn't you love to take off for a sunset sail on this lovely boat, adorned with gorgeous greens and soft creamy roses?
Imagine the bride's face as she walked into this stunning room, full of excitement and anticipation... She slips into her wedding gown and shoes, ready to walk down the aisle towards happily ever after!
Absolutely breathtaking in delicate ruffles...
A darling sweet treat...
Or two...
Stunning pink gown, and gorgeous pink and green jewels - isn't that necklace divine?
Lovely vintage stamped silverware, to commemorate special occasions...
What a magnificent sight, a gorgeous example of nature's true beauty...
Relax, and make time for plenty of smiles and laughs...
Don't these ice cubes with flower petals and herbs look refreshing and summery?
One can never have too many vases of lush peonies...
There is something so decadent about a plate full of colorful macaroons...
Keep a camera close by, you don't want to miss an opportunity to photograph something lovely!
Simple and elegant posy of pinks
A beautiful summer treat, I can practically taste the fresh strawberry ice cream!
Positively dreamy in Rivini with just a hint of blush in her sash...
Hair swept up, and minimal makeup show off her twinkly blue-green eyes!
A sweet little arrangement of hand-picked flowers from someone special..
What girl wouldn't loved to be twirled on the dance floor in this elegant ballroom?
Dream, Question, Wonder, Discover...
Beautiful girl, gown, lighting, setting; all just beautiful...
So charming and playful, I'm in love with her sassy party dress!
A wonderful little guest nook, the minty wallpaper is so soft and inviting, and the crisp bed linens and fresh flowers would make anyone feel at home.
And last but not least...all we need is LOVE.
***
As a special THANK YOU for your continued kindness and friendship, and support of my little blog, I have a very special Pink & Green giveaway for one lucky reader.
This giveaway includes:
and
Lilly's "Wear Pink and make the boys Wink" fragrance is flirty, fun and summery; you can't help but smile with every spritz! This Rachel Leigh bracelet is destined to become your new favorite. I first purchased one when I saw them on Gossip Girl, and I adore it. It will look great with all your Lilly too!
Vintage-inspired floppy bow bracelet with 14K gold plating and vibrant enamel detail. Designed to fit all with spring hinge opening and magnetic closure. Hand painted in New York.
(Aren't they precious?!)
Here's how to enter:
(1) entry: Become a follower and leave a comment on this post. If you're already following, just leave a comment as well!
(2) entries: Become a follower via Twitter, and RT this giveaway.
(3) entries: Post on your blog in a post or on your sidebar.
Giveaway closes Wednesday, July 28, 2010 at 12:00 PM EST, and the winner will be announced next week on Pink & Green Thursday. Thanks again for your friendship and for reading, and best of luck to all!
***
Have a fabulous

Pink

&

Green

Thursday, and don't forget to link up below!
xxoxo
Note: This giveaway was not requested or sponsored by anyone other than myself, and is a simple gesture of gratitude for my blog readers.xx
Playlist: "Wondering Where You Are" Tyrone Wells; "Counting to 100" Matt Wertz
(Images via, Rivini, Everything Fabulous, The Bottom of the Ironing Basket, Lace & Tea, Beautiful Things to Share)